How about dimming everything on your screen except the active window? Well, if you are someone who loves to watch youtube videos in the background while doing some other work, then probably this not the page you should be reading (Checking this out, instead). But if you are someone who doesn't want to be distracted while you focus on important activity, then just go ahead and read this short tutorial. Le Dimmer is one such application for your windows PC, that tries to pull you out of distraction by dimming everything on your screen except the window in focus. Yeah! Everything on your desktop, including icons, folders, background wallpaper, explorer, apps etc..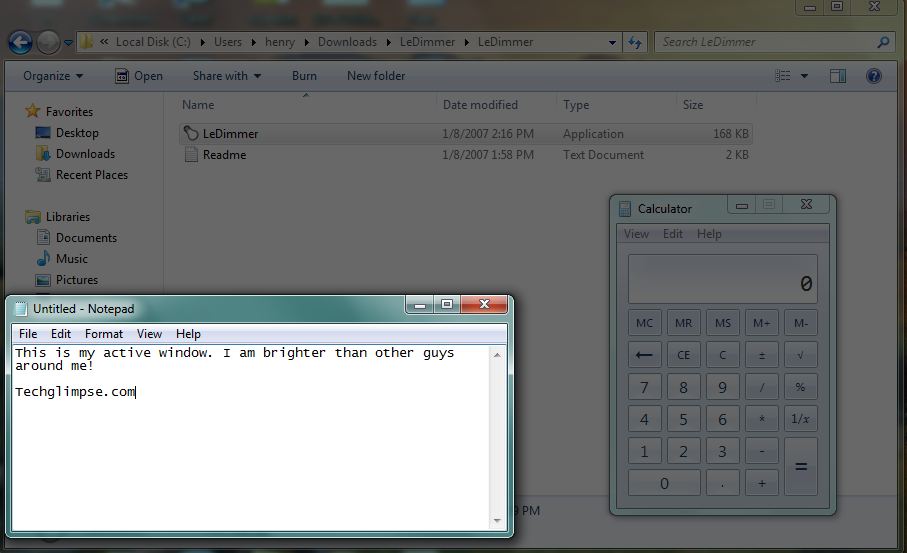 Le Dimmer is a pretty simple app that doesn't feature any interface and settings dialog, but comes with a tiny icon. The app is useful if you had opened plenty of application windows and you want to focus only the active one. All you need to do is, just download the zip from the link provided at the bottom of this page and unzip it. Once done, click on the application to run it in the background (Note: You will just notice the screen blinking for once) . The app will immediately place a bulb icon in the system tray. That's it! Thereafter, Le Dimmer takes care of dimming everything on your desktop and leaving the active window alone brighter.
What I was impressed is, the idea! I love it! Let us know your feedback. Download Le Dimmer.
Checkout more free tools for your windows PC...