Google. The minds in this company(are not just the engineers!) take things to the next level – and even beyond! Think I'm exaggerating ?! Well, Google would love to prove you wrong, once again!
It is common knowledge that Google loves developers and the notion of pampering them. In fact, right from the second year of Google I/O (the annual developer-focused conference held by Google at San Francisco) they have always given attendees a gift of Google's latest hardware.
These have ranged from up & coming mobile phones, tablets and mobile Hotspots to Chromebooks and their newest innovations (like Nexus Q) .

This year, however, Google ditched doling out cellular hardware for their new range of Android Wear. All attendees were given an option of choosing between the newly launched Samsung Gear Live or LG G3 Android Wear watches, introduced earlier yesterday. Probably sensing that some attendees may be disappointed, Googlers decided that all attendees would also be gifted a Moto 360, when it will be made available, in the forthcoming months – thereby, enabling each attendee to be amongst the select few non-Googlers to actually own, not one, but TWO Android Wear devices! Quite an impressive way to charm devs I'd say.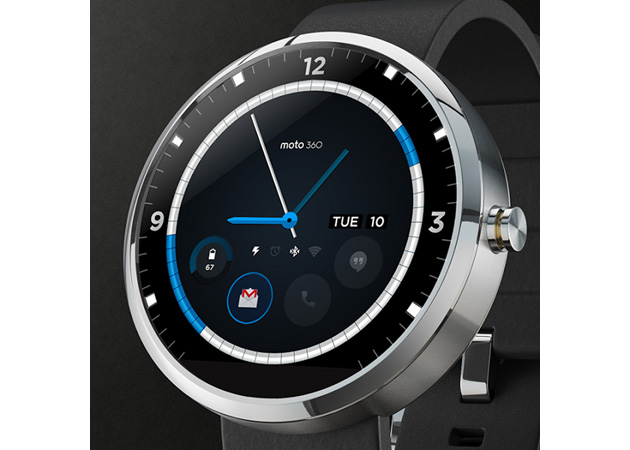 However, Google's sense of generosity doesn't come alone – it's also interlaced with it's characteristic sense of humor. Apart from 2 brand new Android watches, Google also gifted them something else. Something which is bound to elicit quite a few chuckles and even a few raised eye brows. Try and understand it yourself –
@MissXu #IO14 they weren't kidding, btw. It's really just a piece of cardboard. Bahaha. #IO14 pic.twitter.com/xWL3f7CkaY

— Rob DeMillo (@UberRob) June 25, 2014
Since gifting a small and simple piece cardboard doesn't seem like something that Google would actually be indulging in, that is exactly the point – it is NOT just a simple piece of cardboard! Once the seal on the cardboard is torn off, it's quite visible that the cardboard is meant for something .. else! Check it out –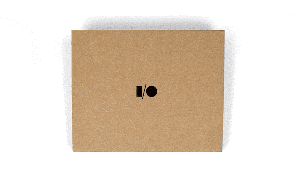 As is indicated in the caption above, the cardboard, while being a piece of sheer ingenuity and "out-of-the-box" thinking, is a pot shot at the Virtual Reality headsets – all of which have been hogging the lime-light recently, with one of the most notable being Oculus Rift. Greg Krumparak, the Mobile Editor over at TechCrunch.com, perfectly sums this up to be a "Mockulus Thrift" – the perfectly "cheap, on-the-fly virtual reality headset" which pairs up with your Android phone to give you a truly jaw-dropping experience!
While this is definitely not an attempt to join the VR bandwagon, many are interpreting it as Google's way of laughing at Facebook's $2 Billion acquisition of Oculus Rift! Although it can be reckoned as a pretty darned good attempt at that, Google's "Project Cardboard" holds its own in numerous ways. Your Android phone is the crux of the project and is held up in place by a velcro strap and rubber band. Akin to the actual Rift headset,  there are two plastic lenses embedded as eye pieces, through which you can view the much-touted "Virtual Reality". The phone's screen is distorted through the headset, along with the app, to wrap around the eye. It primarily illustrates some pretty nifty features, including some which are absent even in the original Oculus Rift – like a built-in magnetic side-button!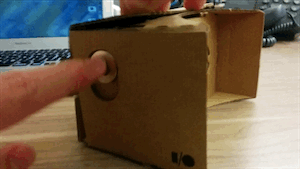 The tutorial begins as soon as you launch the Cardboard app. This informs you that as one moves their head sideways, the choice of app also changes. To select a particular app, one simply has to make use of the seemingly innocuous magnetic button on the side flap – something which may seem archaic but is still appreciated in our modern age. The button movement is cleverly captured by your phone and is transmitted to the Cardboard app, which does the necessary thereon. A small yet highly appreciated addition.
The Cardboard app offers 7 distinct "experiences" to a User and are as follows –
YouTube – the screen is split into 2 components for ease of viewing.
Street Vue – which gives one the ability to wander about in a 3D version of the popular Google app Street View.
"Exhibit" – which enables one to view 3D recreations of various objects.
Earth Flyover – which is the closest you'll ever get to flying around a city like Superman. The magnetic button is pushed to move forward and once again to stop.
Photo Sphere Viewer – it allows one to peruse pics clicked by the built-in Android Photo Sphere app .
Windy Day – A nice, animated app wherein one can watch as animals sneak around as leaves descend.
Tour Guide – this allows you to take a guided tour of the Palace of Versailles.
So, unless you were lucky enough to have actually attended the Google I/O 2014 conference, I highly doubt that you shall be able to lay your hands on one of these nifty little concoctions.
But not to worry, you can now get a Google Cardboard for $20 online.