With the wake of conscious on security issues for women in India, the government recently planned on 'panic buttons' in public transportation facilities. Local phone-maker iBall has also jumped on the bandwagon with a handset featuring a physical SOS button. The physical button is analogous to a virtual panic button which can be accessed using a mobile phone with a similar application.
The global IT giant Microsoft has given its ear to security issues in India. Incidents such as 'Nirbhaya' has clung to the company's conscience. Which is why Microsoft has recently launched an app called Guardian which is available exclusively for Windows phone users in India. 'Guardian' so much identical to its iOS and Android versions. Microsoft India has added an innovation of safety system to this application exclusively for Windows phone users. The app was developed in about six months by a group of Microsoft employees in India, within the Microsoft Garage. Microsoft Garage is a global employee innovation initiative that gives Microsoft employees an outlet to explore ideas in their free time.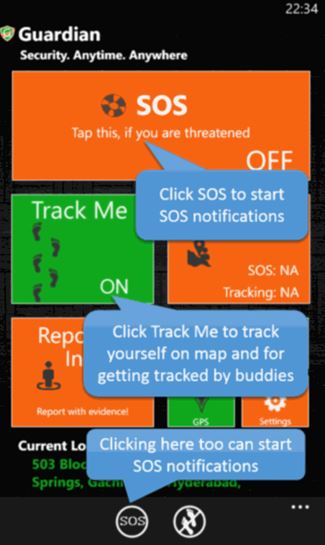 Features of Gaurdian app for Windows Phone
Sends alerts to friends and family members in a situation of distress.
Sends a distress SMS to all buddy mobiles, notifying them of the emergency along with location details.
Sends emails to buddy email IDs and posts to private Facebook groups, if registered.
Helps securities authorities and medical teams track the users.
The application uses a tracking facility so that friends and families can track you and can be tracked in case of emergency. This works in real-time environment, especially during emergency situations, by turning on this tracking feature.  It also features a physical SOS button which enables to alert the security agents immediately in the time of distress. This SOS button sends alerts using SMS, Facebook or e-mail. These facilities are implemented using Microsoft Azure Windows services and Bing Map APIs extensively.
Using Guardian application effectively requires the user to add the names and contact details of friends, family members, guardians and security groups. With this added in the initial settings, it's easy to operate the app. In any sort of emergency situation or when someone's in danger, the app can alert the people in the list when the user taps on the SOS button.
The best part is that the phone can be traced even if it's broken. Another upside to this application is that it is capable of one touch video capturing that can be used as valid evidence.
Raj Biryani, Managing Director of Microsoft IT india said:
"Our employees wanted to do something to enable people to feel safer in our cities. So they used their spare time to develop Guardian. Guardian is a robust personal security app with more safety features and capabilities than any other comparable app available to Indian smartphone users today."
This application is available for free only for Windows Phone users in India. However, Microsoft has plans to eventually furnish the application such that it can be of service in other countries as well.
Download Guardian for your Windows Phone