Can you wonder Human Life devoid of machines? Well! Hell No!! The modern, busy, melancholy, hustling and jostling human life is immensely dependent on machines. The best among all is the machine in front of which you are sitting right now and viewing this article. Yes! This extremely magnificent machine, computer enables you to accomplish a hell lot of activities from simple and complex computations to software and apps that facilitate your working, from internet connectivity to social networking thus allowing you to stay connected with the globe outside while sitting at your home and many more.
However, this amazing machine with such plethora of complex functions and surfeit of sophistications has to have problems and troubles which has to be sorted out. Now this sounds disgusting when you are forced to search for a mechanic and mend the little troubles in the functioning of your computer.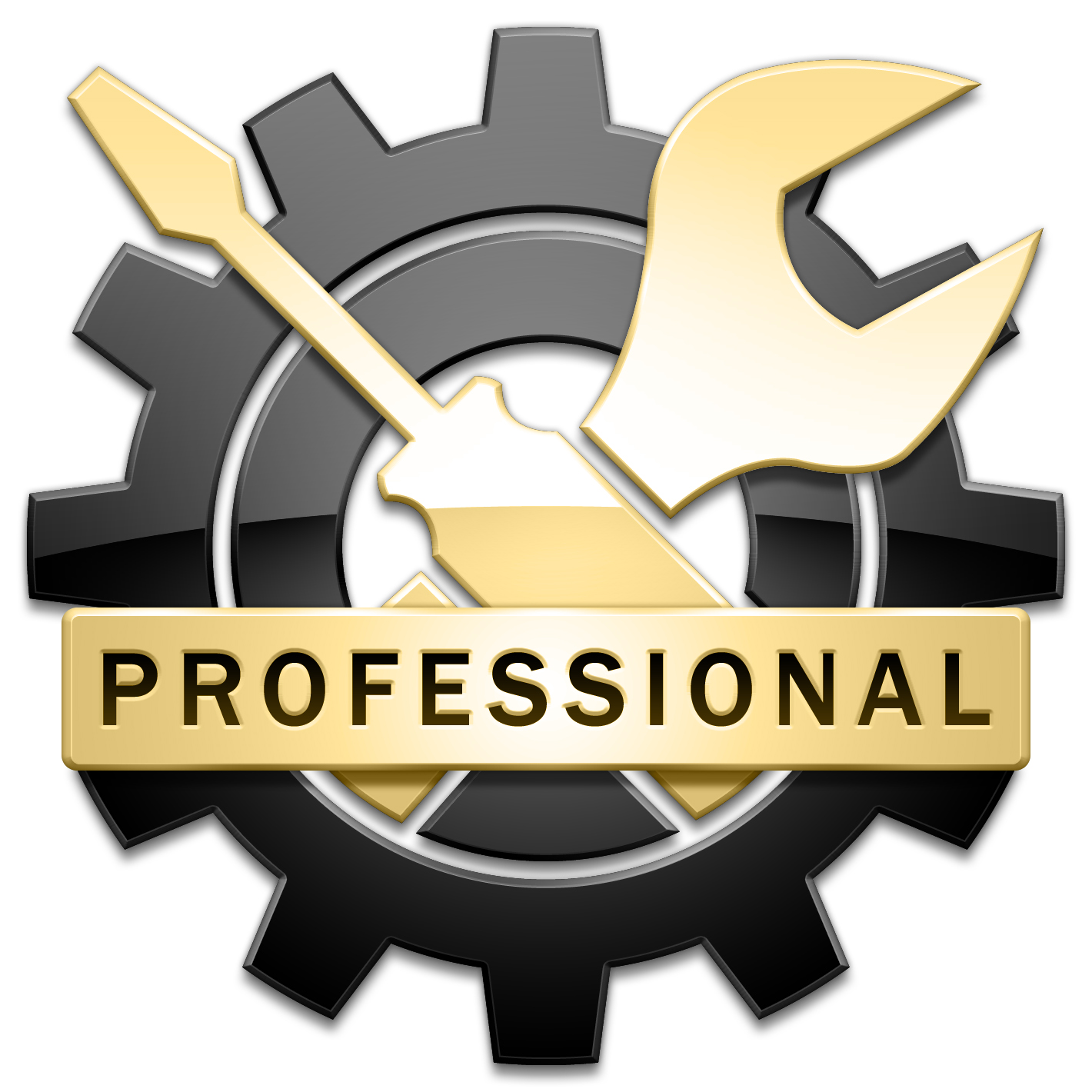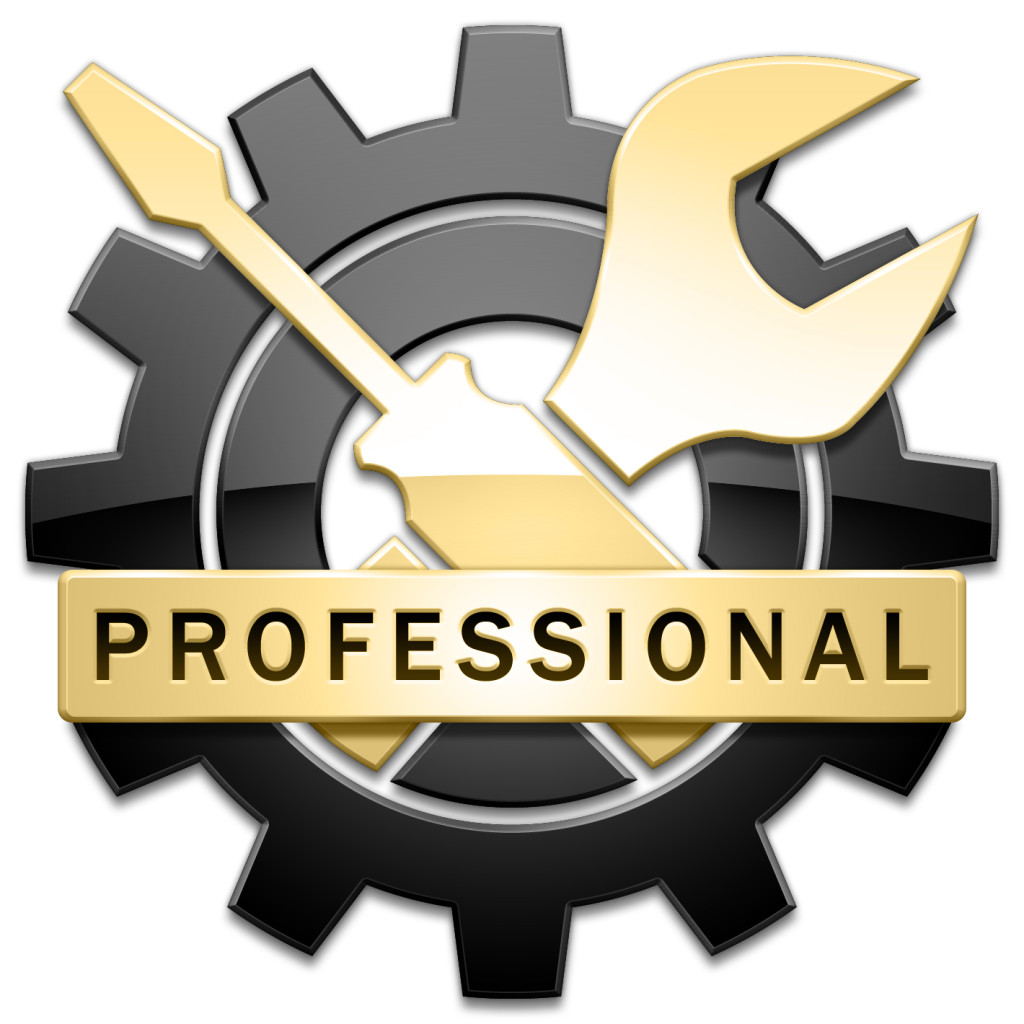 But Hold On! You need not worry anymore. Meet System Mechanic 12.7- a fascinating software with amazing features, simplified compatibility, and easy-to-use mechanism which relentlessly takes care of your PC and sorts out every minute trouble. The software, once downloaded and installed, can be employed as a full time PC mechanic and reduces much of your work with easy, elaborate instructions and staunches your search for a mechanic to handle small software and operational issues. Here are the instructions to download, install and use the software and stay carefree.
Downloading System Mechanic 12.7
The software, by Iolo Technologies, is easy-to-handle and suits best for the elderly PC users. Download the software from Iols's website.
System requirements
• Windows® 8, 7, Vista, and XP
• Internet connection (for license activation)
• Internet Explorer 6.0 or later
• 256 MB of RAM
• 130 MB of free hard drive space
Download information: File Size: 98.8MB
Cost: $59.95 (Save $10.00) or INR 3556.95
Installing System Mechanic 12.7
After online payment and downloading the software, the setup file can be run by clicking 'Yes' on the User Account Control. Click on Next button to continue with the Installation Wizard and agree to the License agreement after which you will be required in an interface to enter the License Code of the software obtained by you to validate it. After installation process is accomplished, the software can be run by selecting 'Launch System mechanic 12.7' and then clicking on 'Finish' button.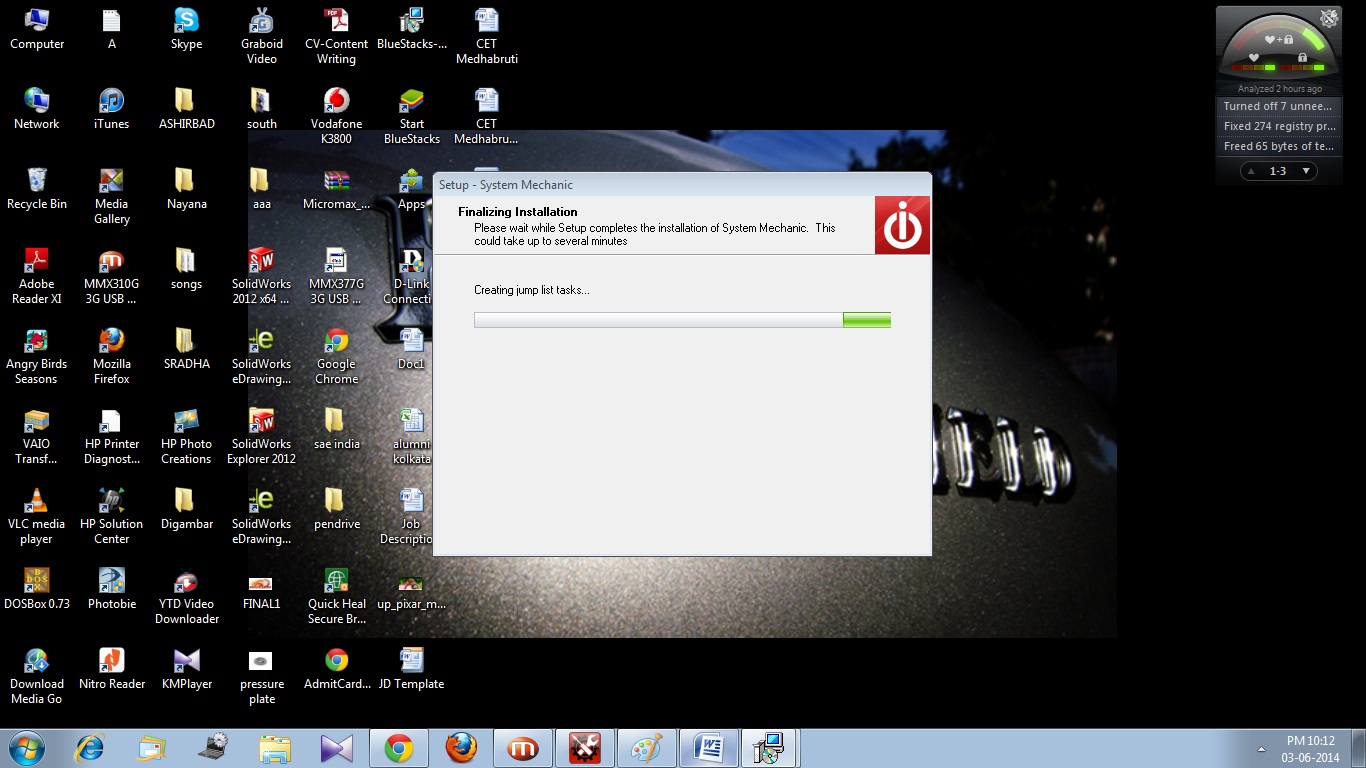 What System Mechanic 12.7 can offer?
After installation, the software is launched and you are directed to the welcome screen that lets you access some tutorial videos, customer information and a What's New. You can select 'Don't show this again' to disable this screen show whenever you start up System Mechanic thereafter.
Skipping the welcome screen leads you to the user interface and shows the dashboard.  System Mechanic is a robust and bravura program equipped with several tools to empower you to do a lot of operations on your computer. From system clean up and obliterating dead files to performing diagnosis, system check-up and care, System Mechanic acts as an obedient and sincere nurse for your PC and is the best thing to resort at.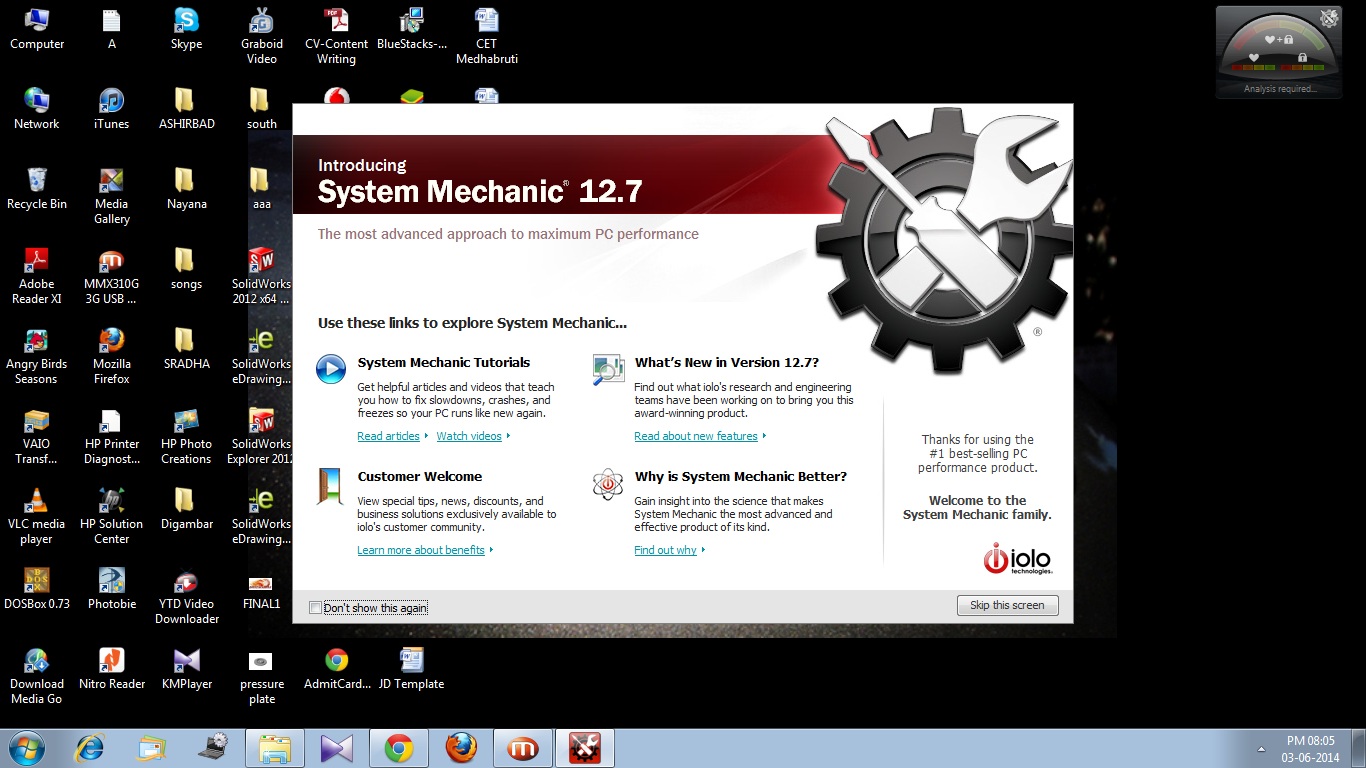 To ameliorate better access and easy operation and to reduce your potential confusions, System Mechanic is classified into various portals/sections consisting of one or more wizards or tools to accomplish particular tasks.
Overview of functionality
Dashboard
ActiveCare
LiveBoost
Internet Security
Toolbox
All-in-one Tools
Individual Tools
Reports
IntelliStatus
History
Reliability
Overview
The Overview pane on the Dashboard is your starting point for using System Mechanic. This section is similar to that of a car in function, indicates the condition or System Status and enables you to thereby 'Analyse' the computer and resolve the problems in functioning.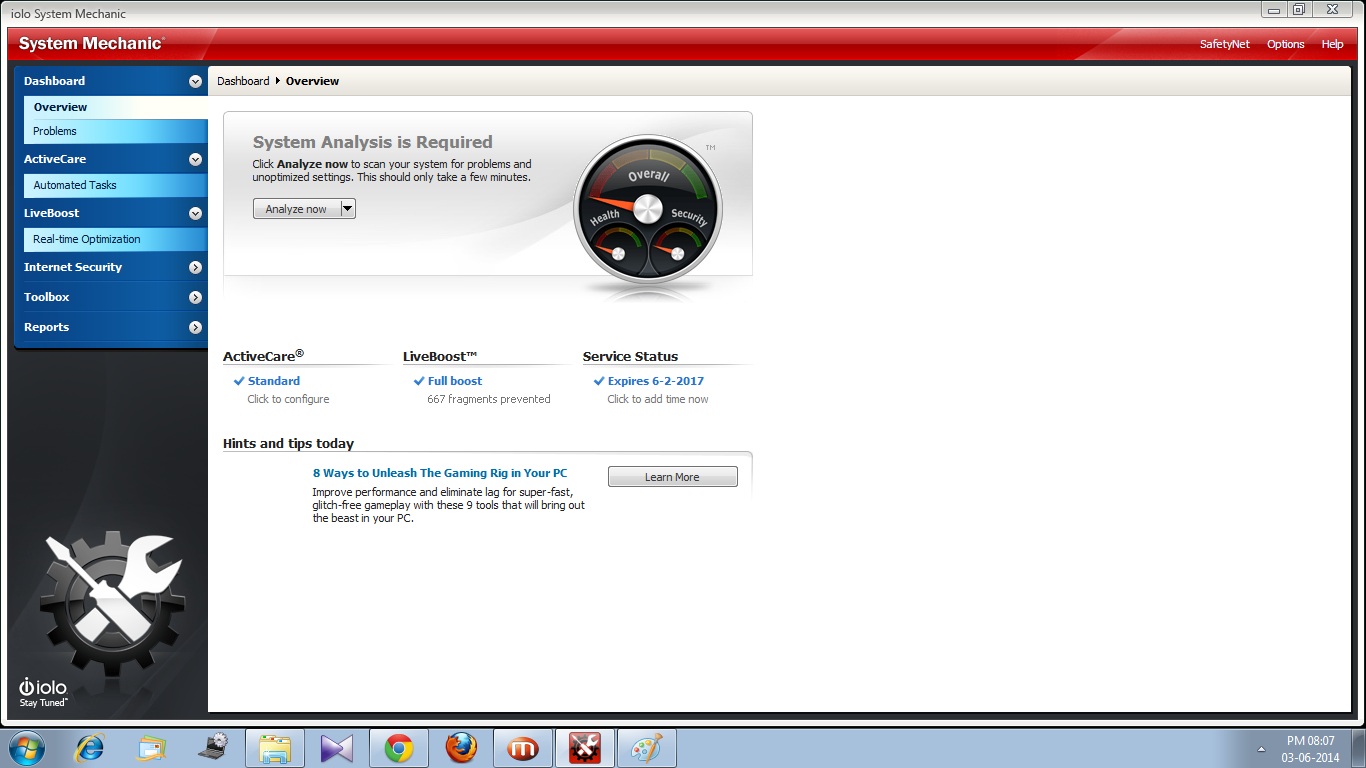 The System Status section enables you to know how long it has been since the last analysis and to analyze your computer, repair or view any detected problems.
Analyze your PC
Click on Analyze Now (or Re-analyze) and then choose to run, either a quick or a deep analysis:

Perform Quick Analysis – runs a fast check of your computer and requires approximately 2 minutes to complete.
Perform Deep Analysis – is a more comprehensive check of your computer requires more time (approximately 7 minutes)

On the completion of the Analysis process, the computer's status is displayed in System Status Gauges with graphic indicators similar to a car's speedometer indicating the overall health and security of your computer on the basis of the number of problems detected and their severity as Good, Fair, Poor, or Critical.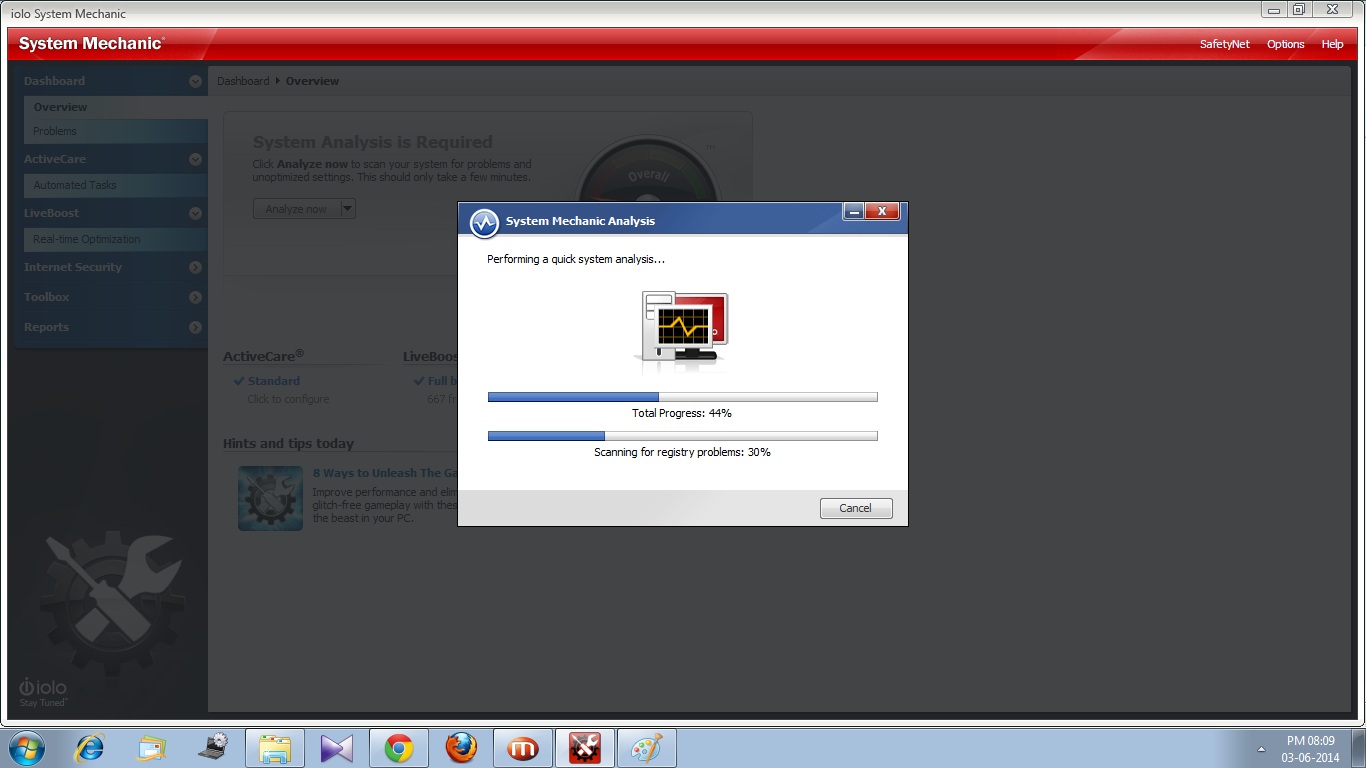 After the problems are detected, System Mechanic displays the number of problems/recommendations found and offers two actions:

Repair All –  automatically repair all the problems, using default settings.
View Problems – This option opens up a window to view a list of all the problems that System Mechanic detected. The Problems pane displays or enlists each problem and allows you to pick and choose the desired repairs, if any
The System Mechanic may require a system restart after the successful fixing of problems for any repairs to take effect.
Problems
The Problems pane displays any detected problems along with a brief explanation of the risk and how a repair or optimization can help your computer.
Critical problems, shown in red, are detrimental to your computer's performance, security, or stability.
Other problems, shown in black, are not as severe, but may be reducing your computer's performance, security, or stability.
The Warning section provides recommendations that you may consider to improve your computer's performance, security, or stability.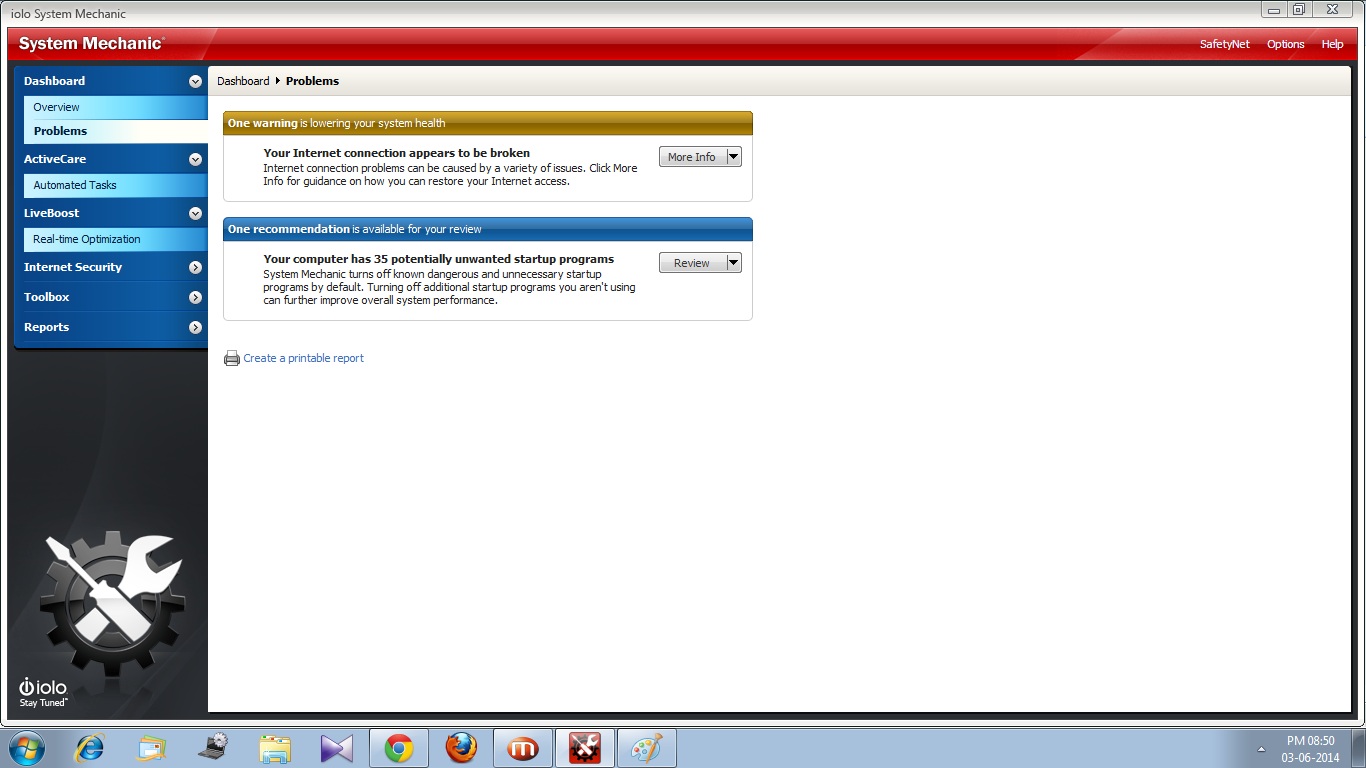 ActiveCare
ActiveCare monitors and manages the key indicators of PC performance and then automatically runs them to undergo the repairs your computer needs after proper analysis. It works when the computer is ON but not in use and allows you to either cancel the process or let it continue when you return to the computer.
There is a toggle button next to each and every task which allows to Enable or Disable the automated repair which will be carried out by System Mechanic to enhance the protection and security of your PC. System mechanic provides detailed information under each task and thereby ensures that the users face no difficulty in choosing the tasks relevant and useful to their system.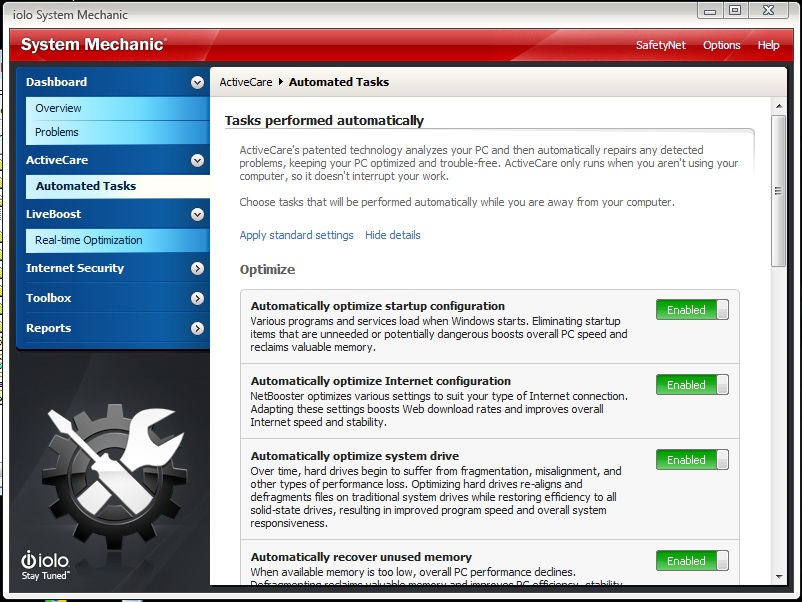 LiveBoost
LiveBoost is an amazing amalgam of three automatic real-time performance tuning features: OptiCore, RAMJet and AcceleWrite. These features are designed to balance demands, improve the responsiveness and enhance the speed of functioning of your CPU, RAM, and storage drives (HDDs and SSDs). Again, a toggle button has been provided across each action indicating Enable or Disable. However, for utmost effectiveness and swiftness of your system, it is recommended that LiveBoost is fully enabled.
This feature augments the responsiveness of your PC by detecting and preventing background programs, which unnecessarily monopolize and synchronize PC resources, from sinking to critical levels and resulting in system lag. It reduces the time and frustration by automatically making the system resources free to avoid lag. It shows the number of CPU Lag(s) avoided just below the toggle button when it is enabled.
This is an appealing feature which monitors and senses the system's memory demands and automatically maximizes the available RAM. RAMJet automatically balances memory demands and prevents low RAM instability. The number of RAM optimization and the amount of memory freed is indicated below the toggle button.
This feature optimizes the PC organisation and files storage and streamlines the data and files for better performance. AcceleWrite's technology improves the way information is written to your hard drive, minimizing fragmentations of data and their storage into disks and resulting in better, more stable performance. The number of file fragments prevented is indicated below the toggle button.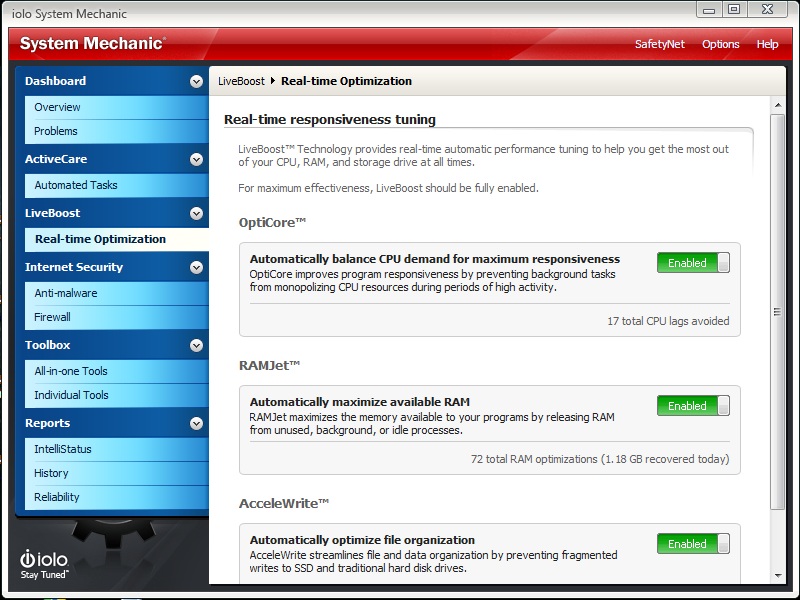 Internet Security
Anti-malware
The Anti-malware pane provides information about the status of your anti-malware protection. The protection from viruses and spyware is vital and immensely essential for internet security and safe function.
If your system is protected by an antivirus software or is integrated with a System Shield then System Mechanic recognises it and affiliates with it for better protection. It indicates on the pane whether the anti-malware function of your system Shield is active or not and provides options to know more, refresh the anti-malware protection status or turn it off for the users to carry out actions suitable to them. This is an effective feature for internet security.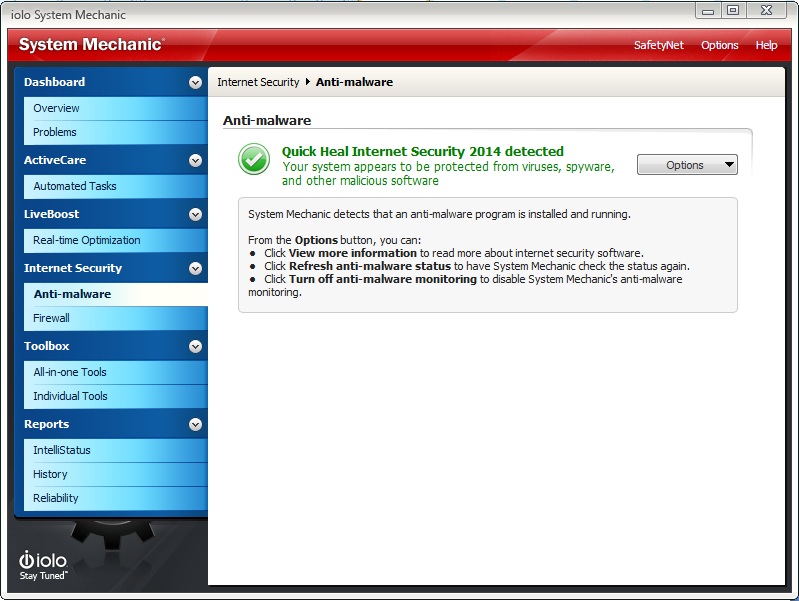 Firewall
A firewall sets a barrier or hurdle against hackers and other intruders and checks their interference, but allows your smooth and secured Internet access. The firewall pane provides information on firewall protection and indicates whether the system is protected by the System Shield firewall protection for uninterrupted and intrusion-free Internet access. Options are similar to that of the Anti-Malware.
Toolbox
This is the computer analogue of tool box in an automobile. It provides a single interface for multiple complex operations like security, cleanup, repair etc.. to ensure prolific performance of your PC.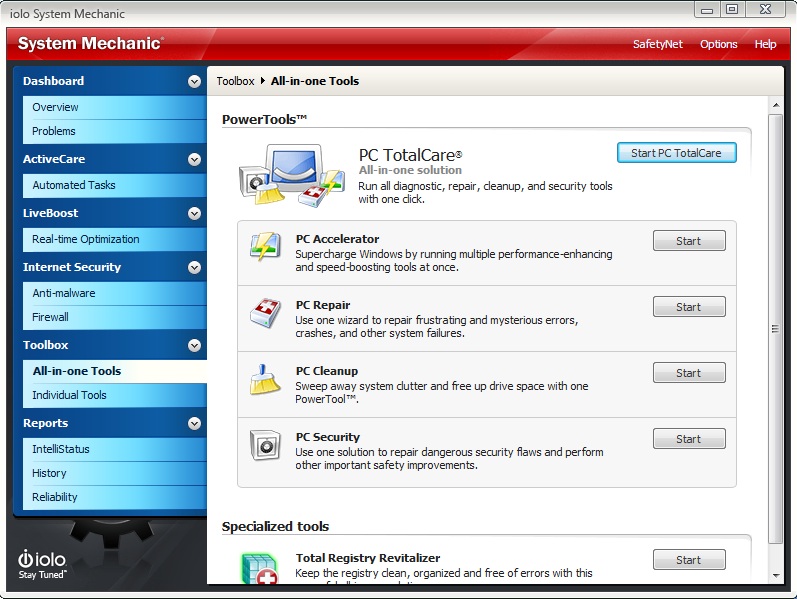 PowerTools
It is the multifaceted wizard that combines critical repair, cleanup, speed-boosting and protection tools and allows you to take up overall maintenance and fine-tune the performance automatically.
This is the specific interface that employs all the essential speed-boosting tools at once to achieve maximum gains in performance and thereby enhance web download rates, faster program functioning and ensure improved reliability.
It diagnoses and fixes errors and troubles in the registry, hard drives, software, and hardware and detects critical levels of problems to prevent the system from malfunctioning.
Identifies and confiscates the debris/wastes left behind by temporary files, cache files, untidy programs, and thereby recovers the system from over-exploitation of resources by unneeded files or data or programs.
Ensures utmost protection of the vital registry and repairs security flaws and rules out vulnerabilities that leave computers open to attack.
Specialized Tools
Total Registry Revitalizer
It is a commendable approach to maintain the vital registry protected, clean and organized.
The Individual Tools pane provides simple, categorized access to all the System Mechanic repair, optimization, and monitoring tools. You can run the exact tools that suit your needs. Step-by-step wizards give you total control over what actions are run with the settings that you specify. System configuration tools allow you to monitor and fine-tune settings so that your PC is tailored to your specifications. Diagnostic tools provide detailed system reporting and allow for advanced troubleshooting.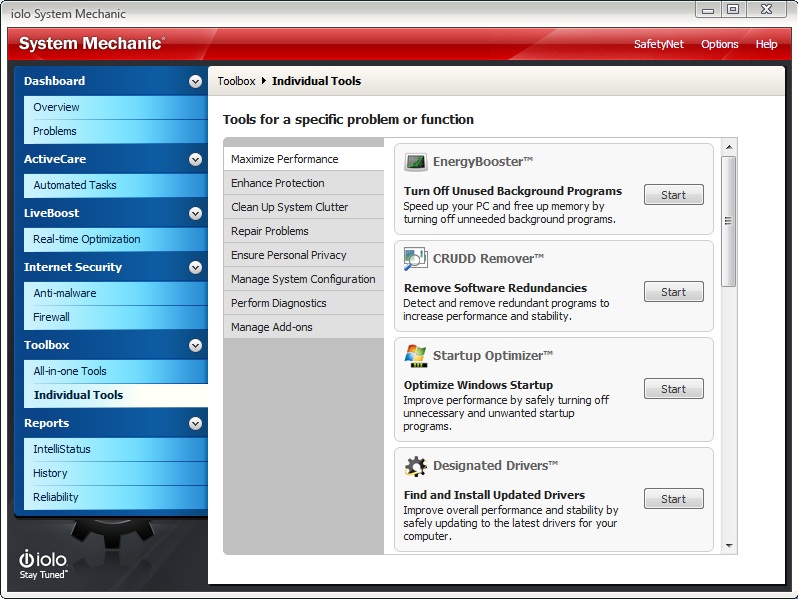 Reports
The reports section provides all sorts of information of protection and maintenance and displays elaborated reports for better understanding and usage.
 IntelliStatus
The IntelliStatus pane displays the status of key areas that impact performance: available hard drive space and memory, number and type of startup and running programs, and Internet connection speed.
Monitoring these system details can help you assess the impact of system changes and see if any unknown process is running. The buttons give you fast access to the relevant optimization and management tools.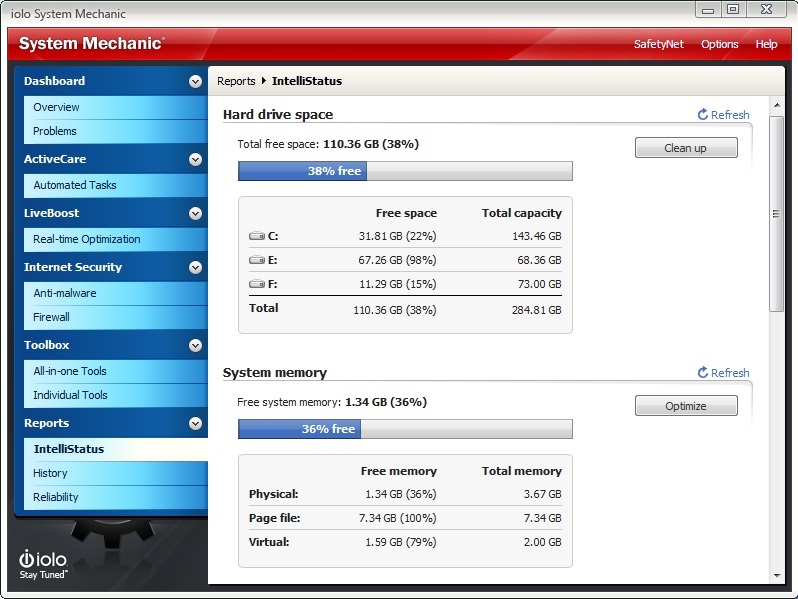 History
The History interface displays elaborated statistics of repairs, actions and operations undergone by the system. The Most Recent Actions lists the recent repairs and optimizations while the Odometer indicates the amount of disk space freed. The SafetyNet feature is worthy feature which allows you to undo actions undertaken by System mechanic and revert back to previous state/status/settings of your PC thus enabling you to make every action reversible.
Reliability
The Stability Guard automatically tracks, correlates, and reports the reasons for system crashes, errors, changes, troubles and instability. It displays them as statistics, including a comprehensive reliability rating representing your PC's reliability over time. Your PC's reliability is actively monitored and rated on a scale of 1 (Least Stable) to 10 (Most Stable) and varies with the functioning of the system as – Decreases with increasing program crashes and instability while increases with continuous and ceaseless perfect functioning over time.
With the galore of glorious features that constitute an efficient and eminent System Mechanic, this is more than just a software and is worth employing for effective and relentless care of your computer. So, Gonna hire it?
Enter our Giveaway Contest

To participate in the Giveaway : Tell us, and Iolo Technologies, how this utility would be a life saver to you in the comment section below and subscribe with us for more giveaway alerts (Facebook | Twitter | Google Plus).

Contest Terms :

Leaving a comment to participate in the Giveaway gives permission to contact (via Email/Twitter) and pass on the license key to you. The contest will run from June 17th till July 17th. At the end of the contest, we'll choose three winners based on the comment. The Winners will be given free licence key for System Mechanic 12.7.

Here is the list of winners!
Ennrico Jonathan 
Danny Matthew
Rajesh Mahinder

You will soon get a mail with the license for System Mechanic. Cheers!