Clouds have been trending for quite some time now, literally and otherwise. Monsoons spell photos, loads of them and photos demand space, lots of space! The same applies to documents, presentations, chat backups, phone contacts and all the other integral data without which (or, to be more precise, at the loss of which) each one of our live's would come to a standstill. And 'a cloud' usually saves us all from such nasty scenarios. Dropbox, Amazon S3, Flickr, OneDrive, Box, Picasa and the like are a savior in disguise. Storage, space, reliability (well almost),convenient….halt! Yes, it is a convenient affair in case of 'a cloud', it is very inconvenient in case of ' a lot of clouds'-logging in, logging out; the pain one has to undergo to log into different clouds through different devices can make the savior unwanted by many. A cloud manager is the need of the hour and  Cloudbuckit is just about that and a lot more.
Cloudbuckit, now what is that?
A cloud manager! Logging in and logging out of various clouds has tired you? You are stuck up in the process way too often? You spend more time paving your way into your own accounts? Cloudbuckit is the father of clouds, add all your clouds to this family and bid farewell to the persistent log-ins and log-outs.
How does Cloudbuckit stand out?
And yes, a number of similar services like mover, cloudfuze, multcloud and more present in the market that allows you to manage multiple accounts! Why you have to choose Cloudbuckit? That's what we are going to see about! Read through and you won't regret!
Adding multiple accounts to Cloudbuckit, how does one do that?
Download Cloudbuckit , add all the cloud accounts in there and individually log into each cloud account. You can access all your clouds with just one Cloudbuckit user id and password. So, the next time you wish to access a couple of cloud accounts, log into them through Cloudbuckit, as simple as that!
I am sure Cloudbuckit fails to support that cloud…
It supports all the major clouds – Google Drive,  Onedrive, Dropbox, Sugarsync, Box, Amazon, Kanbox, Smugmug, Instagram, Picasa, Flikr, Copy, Facebook, Vk, Twitter, Weibo, WebDav, FTP, FTPS and SFTP (phew! that's a lot).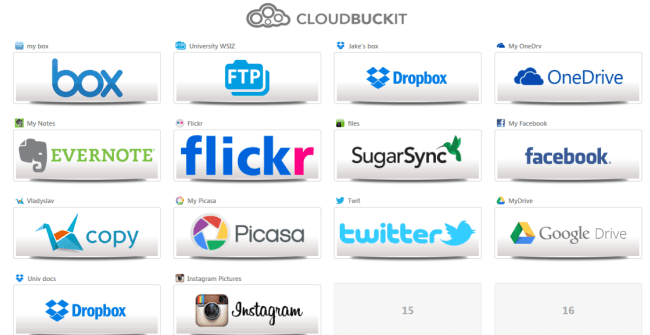 Benefits of Cloudbuckit?
If all these qualities of the cloud manager hasn't dazzled you yet, this might! What if I say that you can transfer data from one cloud to another within Cloudbuckit just by way of copy pasting (drag and drop, in some cases). Rad, right?
So, want to save that Google Drive file in Dropbox? Just drag and drop, no sweat and blood shedding work!
And yes, you can share files from various clouds with others just in one click. For instance, you can directly post pictures on Facebook and Twitter and can email that file to five recipients at a time.
Did I mention, the 'favorite' feature? You can favorite documents, pictures and other data which would be conveniently stored together in one file. Meaning-no endless browsing trying to figure out that passport size picture or that important file.
Still apprehensive?
What if I forget passwords to all my clouds and put my faith in Cloudbuckit only to realize it forgot all my clouds or lost all my integral data? You have a right to be apprehensive, but rest assured as Cloudbuckit believes in backup and sync. All you need to do is click on Schedule and Cloudbuckit does the work of safekeeping you data stored in all the clouds. Feels like heaven right?
I need to be near my desktop to access Cloudbuckit..
Cloudbuckit can be installed on desktop, Android and all the Apple devices. (apps coming soon)
Why wait? Install Cloudbuckit now!
Just download the Cloudbuckit windows software and install the setup. Run the program, add all your accounts and you're Cloudbuckit is ready to make your life easy!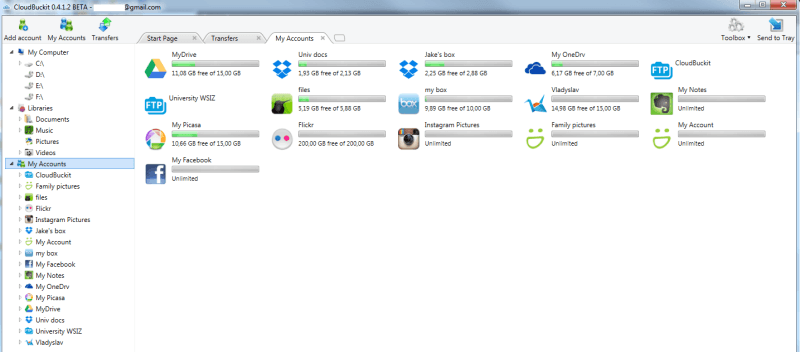 Security
It is as secure as secure can be. They do no practice of password storing in databases, they use a token instead. And their HTTPSs boasts of high security.
Storage
Everything has a capacity, no cloud encourages hoarding habits, Cloudbuckit is no different. What should be stored and what should be trashed should be decided by you by taking a look at this chart.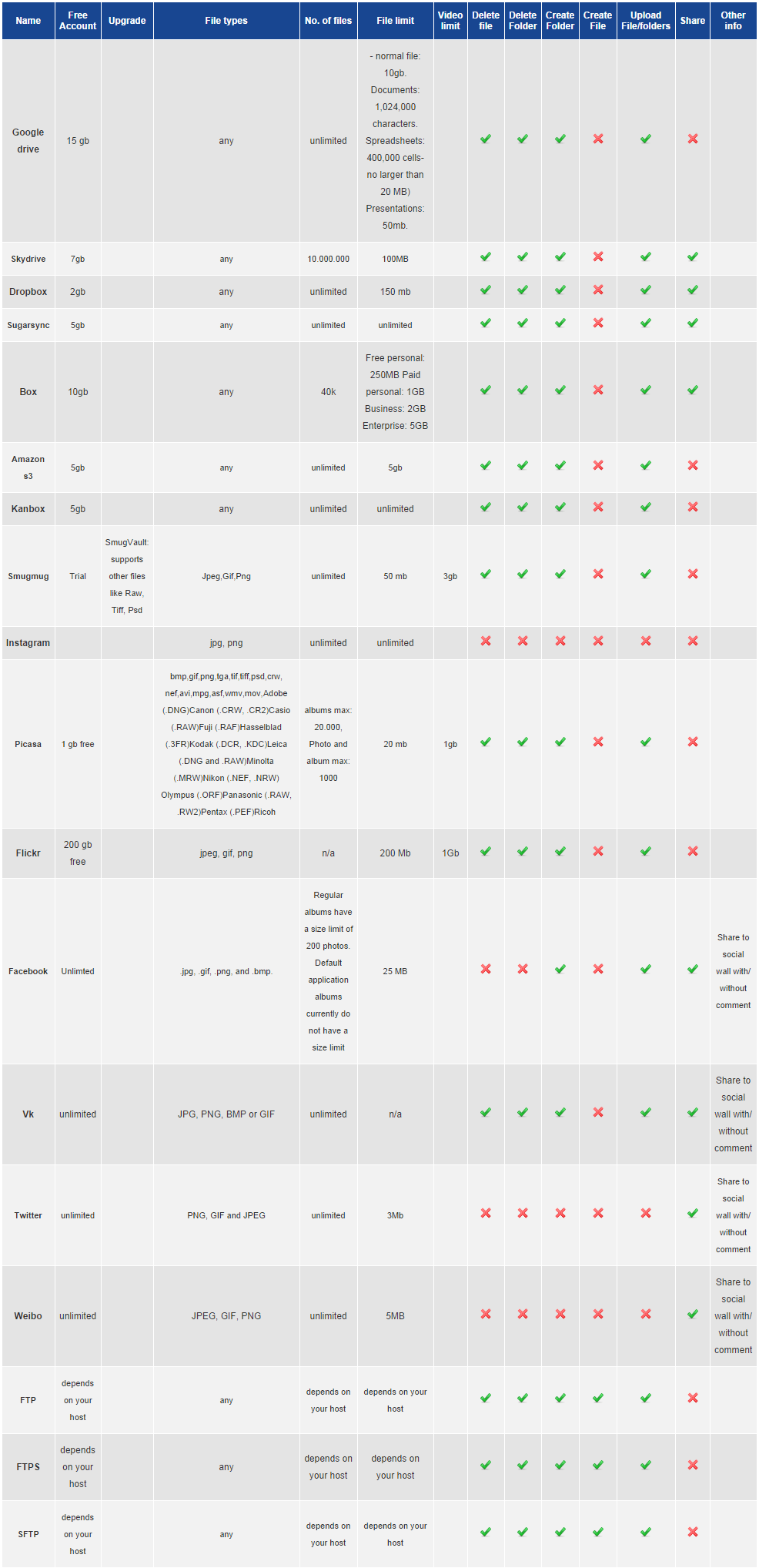 How can it track things quickly?
It uses a unique feature called Universal Search which tracks pictures, files and other data stored in clouds in a blink of an eye.
All this for free?
It's too good to be free. You do get to use it free of cost in the initial 21 days time, post which you have to shell out a meager amount to enjoy this manager's goodies. Its as low as $3.89 per month and $34.99 per year.
Now, we won't leave you without a special surprise, use coupon YearlyOffer to get 12 months of Cloudbuckit usage for $29.99 and the offer is valid for the next three months. Rush rush!
Cloudbuckit ensures peace! With this you don't have to bang your head on the nearest wall trying to figure out the name of the cloud in which you stored your data or the password of that another cloud which you don't use too often.