Thanks to the multitude of photo editing software, you can click a Facebook profile photo of yourself even when a pimple is emerging from your nose. With a few retouches, your skin looks as good as it can be. But the needs of teenagers today, especially girls, exceeds what these basic editing software provides! They want to trim their eyebrows, change their hairstyles, add eyelashes and even change the eye colour.
This is exactly what Perfect365 does, in a single-touch, in the form of a mobile-app, and for free!  You have probably used the instant filters that Instagram provides. Perfect365 too offers such instant 'Hot Styles' for a beauty makeover in a single touch with many funky predefined styles.
Apart from the instant makeover feature, you can move on to a more granular detailing. Here is a step wise guide to the mobile App: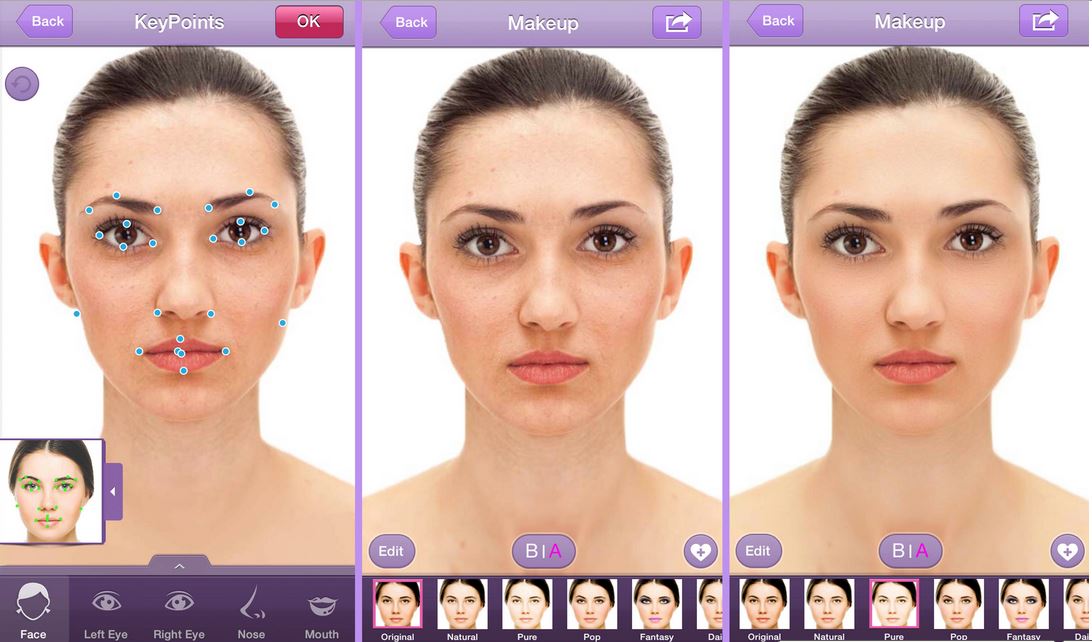 Key Points: A set of facial points appears once you upload a picture. These are tracking dots that automatically detects and appears. You have to review them anyway, just in case they aren't properly placed. All you have to do is press on a dot and the region magnifies. You can drag the dot and place it in the right position as shown in a sample picture in the left bottom corner. You can also pinch to zoom in for convenience.
Hot Styles: Like I mentioned above, many predefined styles are provided for instant beauty makeover with one touch.
Skin: You can remove blemishes and dark circles beneath the eyes. These are toggle-able options. You can also brighten skin, soften skin, and apply blush of various colours using a sliding bar for the intensity of the effects. Palettes are provided for choosing colours.
Face: You can slim the face, give a cheek lift, and enhance the nose. (my personal favourite)
Eyes: You can apply eye liners, color-lens, give different shaped eye lashes, give an eye shadow, brighten the whites of the eyes, and enlarge the eyes (This one feature could really make your face look artificial, so beware.)
Mouth: You can make the smile broad, whiten teeth and apply lipstick or change it's colour.
Hair: New hairstyles are available as well. (Not very sure how it suits a typical Indian, but sure is a good effort.)
The pros of this App includes the Hot Styles, preview, amazing controls, accurate tracking points and makeover without investing time or money!
The cons are that you cannot save work in progress and you can undo effects but you have to manually re-do them. If you are using the free version, your picture will be saved below 1MB space, meaning a slight deterioration compared to the actual picture if it is over 1 MB originally.
Download Perfect365 now for your smartphone!