Most of the times you might need to reboot between windows installations, but what is more hating is the waiting time to see the boot menu, windows boot selection and then the final booting. Though the booting time can't be avoided, but the time taken to see the boot menu and the operating system selection can be avoided. Re-boot tool is one such solution for the dual boot systems, where you can boot directly into a specified operating system without having to wait for the Windows boot menu.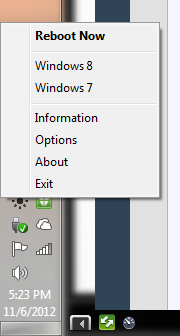 Re-boot To is a light-weight application that runs in the system tray after the installation. You can choose the options by right-clicking its icon on the system tray. The applications lists all the operating systems installed and displays as a menu, making it convenient for you to choose from.
The user can select his preferred operating system and click the "Reboot Now" option at the top of the menu. Choosing the "Default" will always boot into primary OS. Click the "Information" option to see the details of the windows installation you are currently in.
ALSO See: Find out the Files and Folders that occupies more disk space using WizTree
You can also tweak the application to start during the boot, reboot upon selection and check for the auto updates. This tool is a must try for those frustrated with the long waiting time during every reboot.
Download Re-boot.