Windows 8.1 is great by many ways! And I really like the File Explorer feature. But there is one simple feature I found to be not present as default in here. Guess what?! The Hibernate option in the power menu. Most of the time, I use this feature instead of shutting-down or locking my computer. The reason I wanted this option badly is because of my laptop and its state where I can never close the lid(some screws ran out of the junction!). So, every-time I go the power menu and choose to Hibernate when using Windows 7, but now?
I had to look for an alternative and luckily I was able to bring the Hibernate to be displayed in the Power menu of Windows 8.1. Want to do the same? Follow the steps below!
Note : Do remember to login as a Administrator. Since you will need permissions to perform the required changes.
Open the Control Panel > Click Power Options.
On the left bar you can find "Choose what the power buttons do", click on it
On the System Settings window, click on the link "Change settings that are currently unavailable"
This will open the System Settings window, where you can set your system's power management features.
You will find Shutdown settings  section at the bottom.
Enable the Hibernate checkbox and Save changes.
Now when you go to the power menu, you can find the Hibernate option! Enjoy!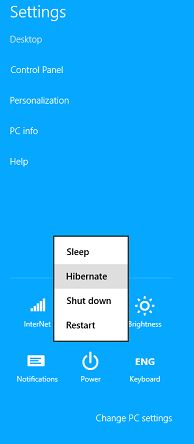 Note: You can deactivate the hibernate option by following the same steps specified above.