The Skype app for the Windows 8 is now available for download at the Windows Phone store. It's a preview version that might have some issues with call reliability and chat notification popup not being available outside the app. This preview version might also have problems in receiving the incoming calls outside the app. These issues were noted by Microsoft as "experiences in the app are not yet final".
Features:
– Call friends and family with free Skype to Skype voice calls over 3G* or WiFi
– Make free video calls to anyone else on Skype
– Make low cost calls to mobiles and landlines
– Send IMs or group IMs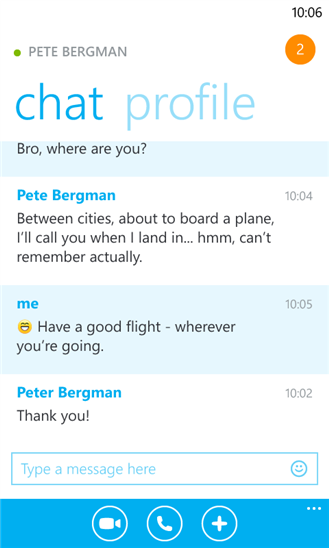 System requirements:
– Skype for Windows Phone 8 requires Windows Phone 8
– To ensure the best quality experience, Skype for Windows Phone requires a minimum of 512MB of memory
You might also Like : Eight Skype tricks that you might not know
The app can be download at the
Windows Phone Store
for free.