Microsoft recently announced that all Android devices are now compatible with Your Phone Companion application for Windows 10, and can now not only sync their data but make calls from your Windows 10 PC.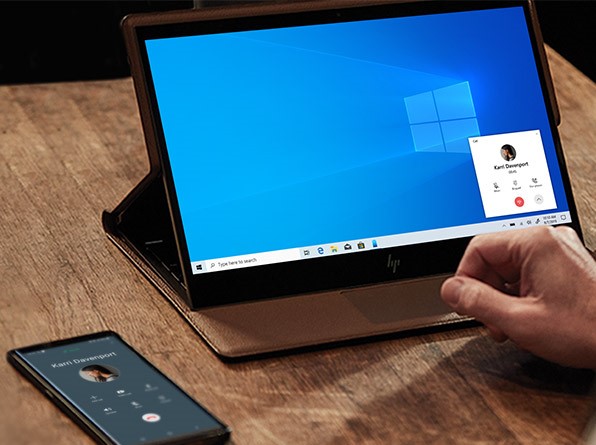 Feature users of windows PCs waited for a long time now have the ability to sync their phones with the computer. Users of Mac OS with iPhones have been enjoying this feature for a really long time now, being able to sync almost everything in real-time. Microsoft has been on its tracks trying to provide similar experiences for Windows users for a while now, like the cloud-based sync with Office 365 or the ability to sync everything, including a live screen sharing which was available for only a few Android phones, namely the recent Samsung flagships both high-end and mid-tier.
However, very recently with the rollout of the new Windows 10 Insider build (version 18999), they made it official that the Your Phone app for Desktop now supports all Android devices running Android 7.0 Nougat or higher. The app connects to your phone via Bluetooth, a Wireless LAN (a local WiFi network) or over the internet with the help of Your Phone Companion app on android.
Your Phone Companion: Make calls from your Windows 10 PC 
The 'Your Phone Companion' application always supported instantly syncing notifications with your phone, as well as being able to send and receive text messages and access photos from the phone on your PC, and then select Samsung devices enjoyed a hefty ton of more features like displaying the phone's screen on the computer and being able to control it and being able to seamlessly sync without an active BlueTooth connection, which is a boon to desktop users. However, with this new feature update to Windows, the application allows you to make and receive calls from the computer itself once the devices are paired. It uses the speaker and the microphone of the computer so you're actually placing calls and talking on them from the computer. Once the two devices are paired, different tabs appear such as SMS, recent photos and, in fact, calls. From here it is possible to call any number in the phonebook. If a phone call arrives on the smartphone, it is also possible to answer from a PC. It also allows you to seamlessly switch between computer and phone mid-way through calls. The feature was available for Insiders since October 2019 and it is being gradually rolled out to users from early December so we're expecting it to reach our devices soon.
Thank you #WindowsInsiders for your feedback over the last couple of months. Today, we're pleased to announce the general availability of the #YourPhone app Calls feature, which allows you to receive and make phone calls on your PC: https://t.co/m47kLcXgbS pic.twitter.com/4GuIOXjR71

— Windows Insider (@windowsinsider) December 11, 2019
Samsung phones still enjoy all the extra features. We're just hoping Microsoft extends support to other handsets as well in the future!