Hurricane Sandy is a massive, late-season tropical cyclone that has affected Jamaica, Cuba, the Bahamas, Haiti, the Dominican Republic, and the United States, it is currently affecting the Mid-Atlantic and Northeast coasts of the United States, and Eastern Canada. On October 24, Sandy was upgraded to a hurricane. It has brought record-breaking storm surge to the New York City on October 29, with streets and tunnels flooded in Lower Manhattan and other areas too.
There are a number of ways in which you could be constantly be watching out whats happening around.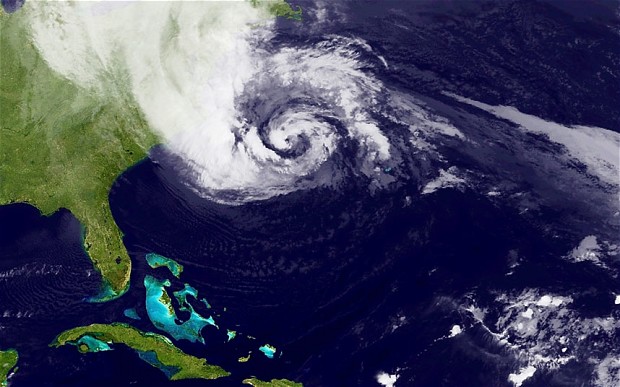 Maps and Apps
The map from Weather Channel , highlights Hurricane Sandy's path, speed and movement with real-time data. The channel also streams the live coverage on YouTube, get a better idea watching this.
The 
Wunderground map
 gets you specific information when you type the Zip code.
The New York Times City Center is posting videos from Mayor Bloomberg, and other updates in one centralized hub.
iMap Weather Radio for iOS and Android: The app will make sure to deliver alerts to you no matter where you are without you having to stop and add a location.
Hurricane Tracker app for iOS: Hurricane Tracker is by far the easiest & most beautiful Hurricane Tracker for iOS. HT gives you all official National Hurricane Center Data along with our Audio/Video updates during active storms
Red Cross for iOS and Android: Be ready for severe weather with Hurricane by American Red Cross. Monitor conditions in your area or throughout the storm track, prepare your family and home, find help and let others know you are safe – a must have for anyone who lives in an area where a hurricane may strike or has loved ones who do.
Google
Google has a program that prepares the world for major events involving Mother Nature, and it has set up a crisis map for people on the East Coast preparing for Hurricane Sandy. Now, it has also added power outage information to its crisis map.
Facebook and Twitter
For Facebook updates, subscribe to  The National Hurricane Center, The Red Cross and The Weather Channel.
Follow @twc_hurricane , @usNWSgo , @RedCross , @NASA  and @NHC_Atlantic on Twitter.
Webcams
Also we have a number of webcams to watch the path live. Given the list below taken from Quartz.